The season of harvest, fruits or otherwise.  But mostly fruits.
One of the things I greatly appreciate about Nagano here is a bounty of fresh local produce.  It is particularly gratifying that certain kinds of fruits, such as apricots, nectarines, Italian plums, and rhubarb (technically not a fruit, but still) that would be hard to come by or pretty expensive when I was in Tokyo, are abundant over here.  I have always been big on fruits ever since I was little, but I've come to bake a lot more with fresh fruits these last years being in here.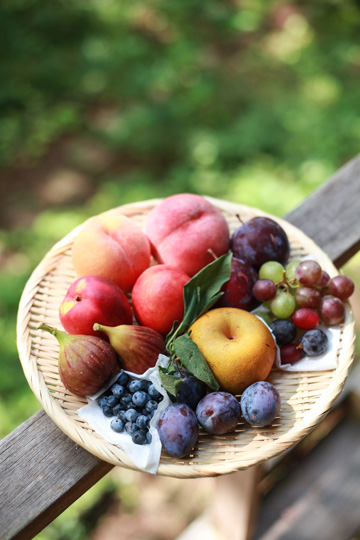 From the beginning of summer through the mid fall, in particular, the green markets and grocery stores are positively flooded with fresh fruits, and so is my place; so these times of the year I would be seen busy baking with the heaps of fruits, as well as eating them.  I think things may have gotten a little crazy
two summers ago
.
And it was in that summer when I suddenly found myself in the mood for baking fruit tarts, among other things, for some reason.  In fact, it was most likely because of the small tart pans I'd bought in Paris a little earlier.
Now,
tarts
.  I love eating them.  I always have.  But making them?  Not so keen on it, I should say.  I'm a pretty lazy baker, and all that making the dough, lining a pan (a lot of times, more than one) with it, and making a filling (again, sometimes more than one kind) would seem a little too fussy to me.
And it actually does involve a little more than what I would get when making my usual suspects, such as scones and crumbles.  But in spite of it all, I was suddenly ready to roll.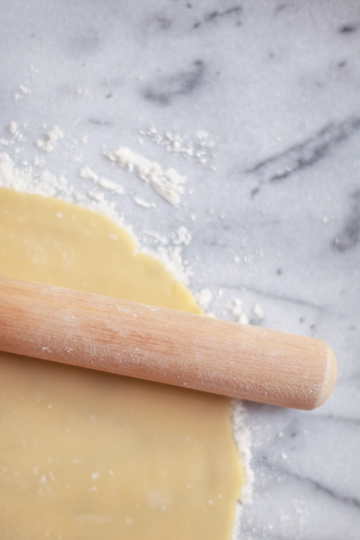 What I found after I had done a few batches was the unexpected fact that making a tart suits my lifestyle rather well if I divide the work into two or more short stages; making the dough this evening and make the filling and bake the tart tomorrow, and so on.  Also, once you got used to it all, the multi-stage tart-making process doesn't feel as daunting as it used to. 
And the more you make them, the better you get at it, right?  That, I'm afraid to say, doesn't seem to be the case with my tart-making skills - or at least not where rolling the dough and lining a pan with it is concerned.  But I quickly learned to be forgiving of all the uneven, cracked, and/or flimsy-edged tart shells I bake, and not to let my less-than-perfect pastry get me down too much.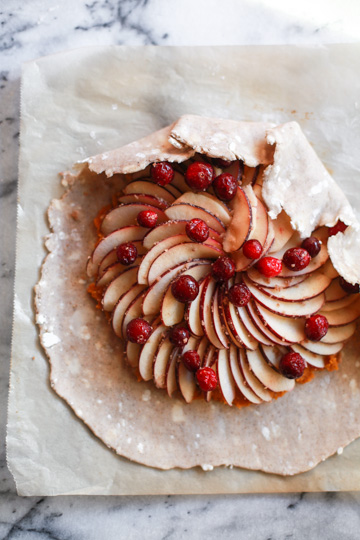 Even when they are not looking perfect, tarts loaded with fruits of the season are perfectly delicious.  Besides, some types of tarts are totally allowed to look more or less misshapen.
Now, what exactly is it that makes a tart, well, a tart?  How is it different from a pie?   You can google it away, but there seems to be no definitive, I mean DEFINITIVE, definition of a tart, or a line that sets a tart apart from things like a pie, or even a cake.   Not all tarts have a crusty crust; some are like a thinly-baked cake, and others have a yeast-raised dough.  It would seem that you can basically call anything a tart if it is thin-ish.  And I'm perfectly alright with that.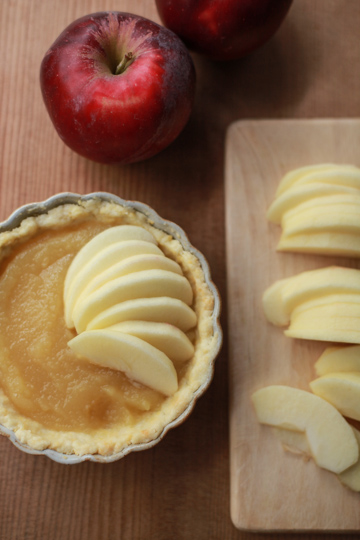 Speaking of the ingredients, I've been trying out different things, a bit of departure from the usuals, i.e. butter, wheat flour, sugar, and eggs.  I've always interested in baking (and cooking) with 'alternative' ingredients, and as much as I adore classic tarts made using good butter and eggs, it's been both fun and liberating an experience to try and bake tarts with 'different' ingredients such as rice flour, buckwheat flour, oat flour, rapeseed oil, coconut oil, soy milk, nut milk, maple sugar, and coconut sugar, among other things.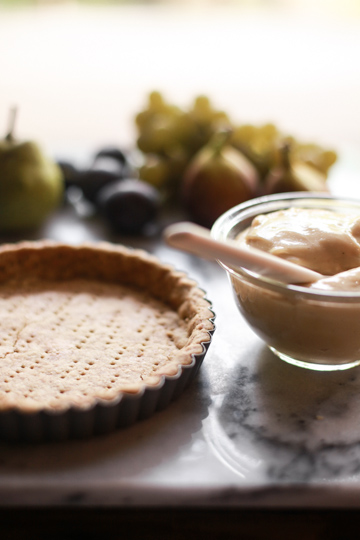 Tarts and tartlets featured in this book are built on a dough made using rapeseed oil (I use a good, cold-pressed kind) and a tiny bit of white sesame paste, filled with such interesting things as a 'custard' that consists of soy milk and rapeseed oil in place of milk and eggs, an almond cream made with silken tofu, ground almonds, and natural beet sugar.  All of them can be prepared in a snap, and are quite open to substitutions as I've found out having tried different kinds of flours and milks.  Not all of my attempts have been successful, but hugely fun nonetheless.  You will find a lot of them in the following.
So there are already so many recipes for tarts out there, and when you are playing around with the ingredients, the possibilities are endless.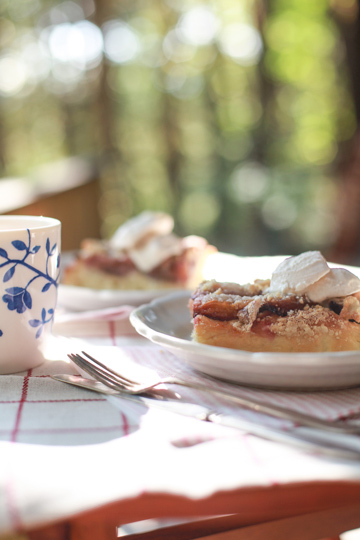 And THAT, my friends, is how I got myself deeply into the world of tart baking in the summer of 2012, and I couldn't really include all those tarts and tartlets I'd made in
that humongous post about baking with summer fruits
which without them was already waaaaaay too long.
So I decided to do a separate post focusing on the tarts, and it's been a
very
long time coming but it's finally here, dedicated to tarts and tarlets starring fresh fruits of the season:
autumn
.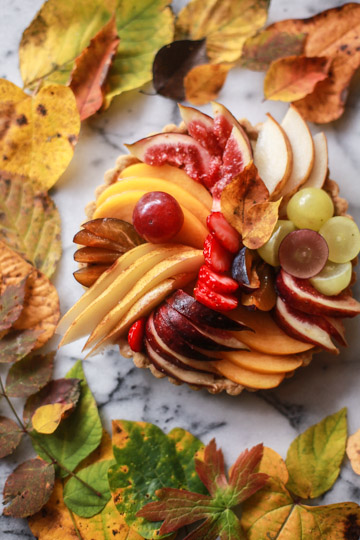 I know it's kind of late in the season to do this; ideally, I would have liked to post this early in the fall, perhaps in the mid to late September.  No, really ideally, I should have done this post two years ago.  But it's too late for that at this point, and it was either doing this autumn fruit tart post NOW even if it is edging into winter, OR leaving it for another year.  I've chosen to do it now and be done with it.
So what follows a rundown on most of the fruit tarts I made in the falls of 2012, 13, and 14.  As I mentioned earlier, a tart can take many forms; I took a liberty of using the term 'tart' in a very broad sense.
Now with your permission, let me take you back to the beginning of autumn...